Electronics, Front - Loading, Fully Automatic, LG, Washing Machines
LG Front Loading – FC1007S5W Washing Machine
Availability:
Out of stock
රු102,000.00
Out of stock
LG Washing Machines – Assured Quality
Curious as to how LG assures the standard of quality with LG washing machines? Watch to find out!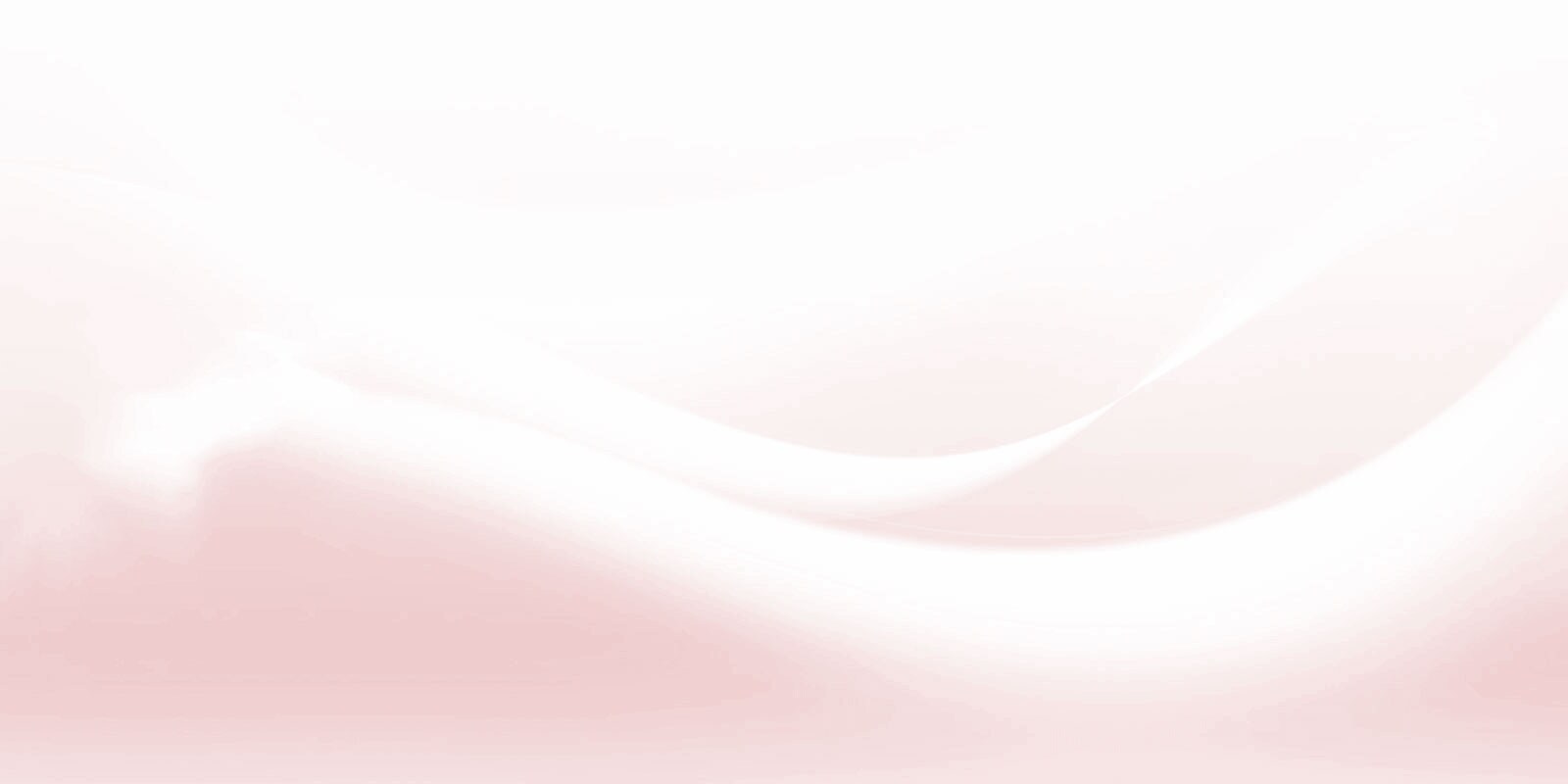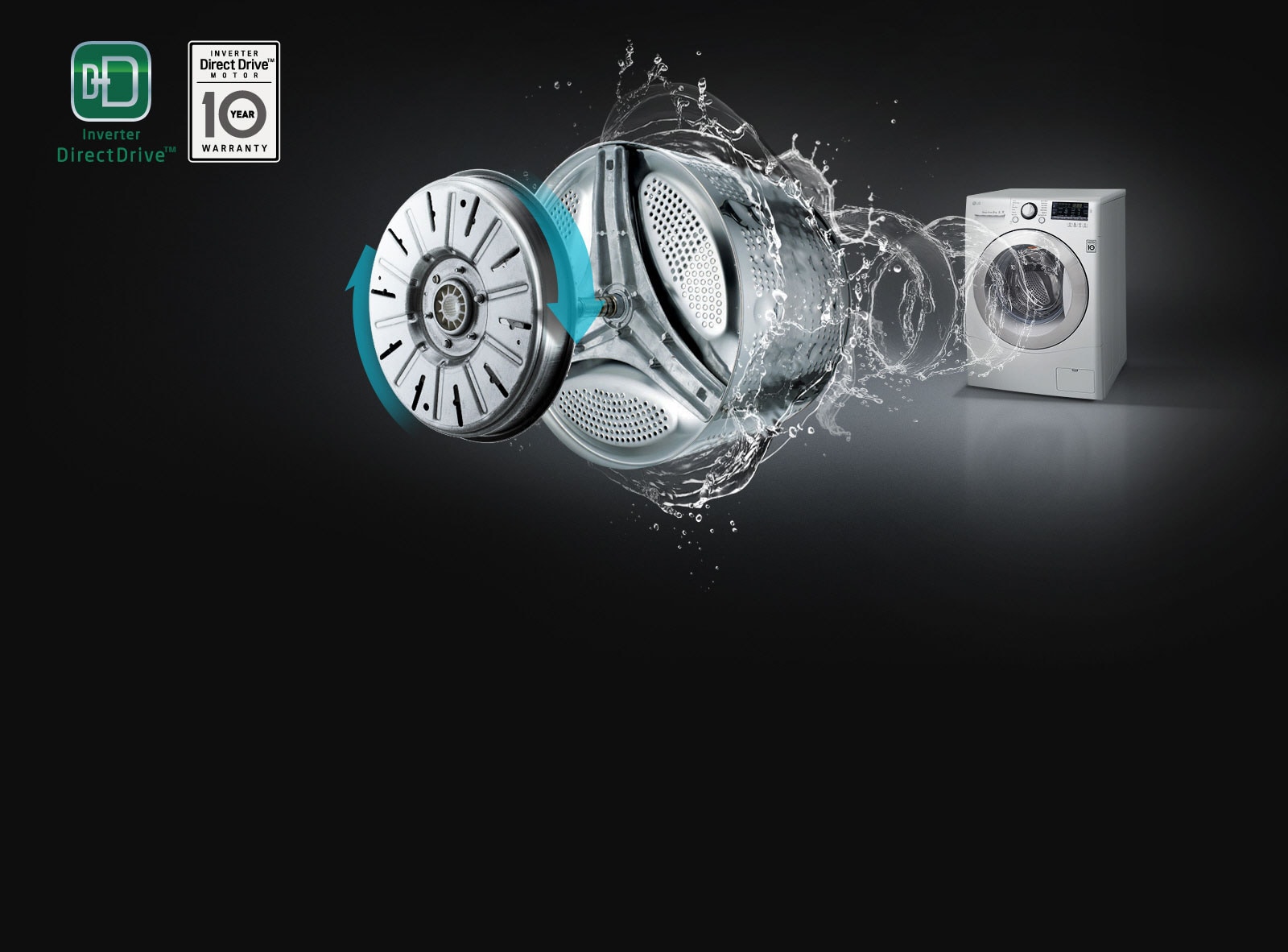 LESS VIBRATION, LESS NOISE
The direct drive motor that powers our washing machines is super reliable and really quiet. We know it is one of the best wash machine motors on the market, which is why all our machines come with a standard 10 years warranty on the motor. Nothing standard about that now, is there?
Energy Saving
Sensor detects the loading capacity and calculates the exact rpm and braking time for each operation. The accuracy can ensure optimum washing performance. This not only saves your time, but also water and energy.
OPTIMAL WASH for fabrics
Select a wash program and 6 Motion Direct Drive technology moves the wash drum in multiple directions, giving fabrics the proper care while getting clothes ultra clean.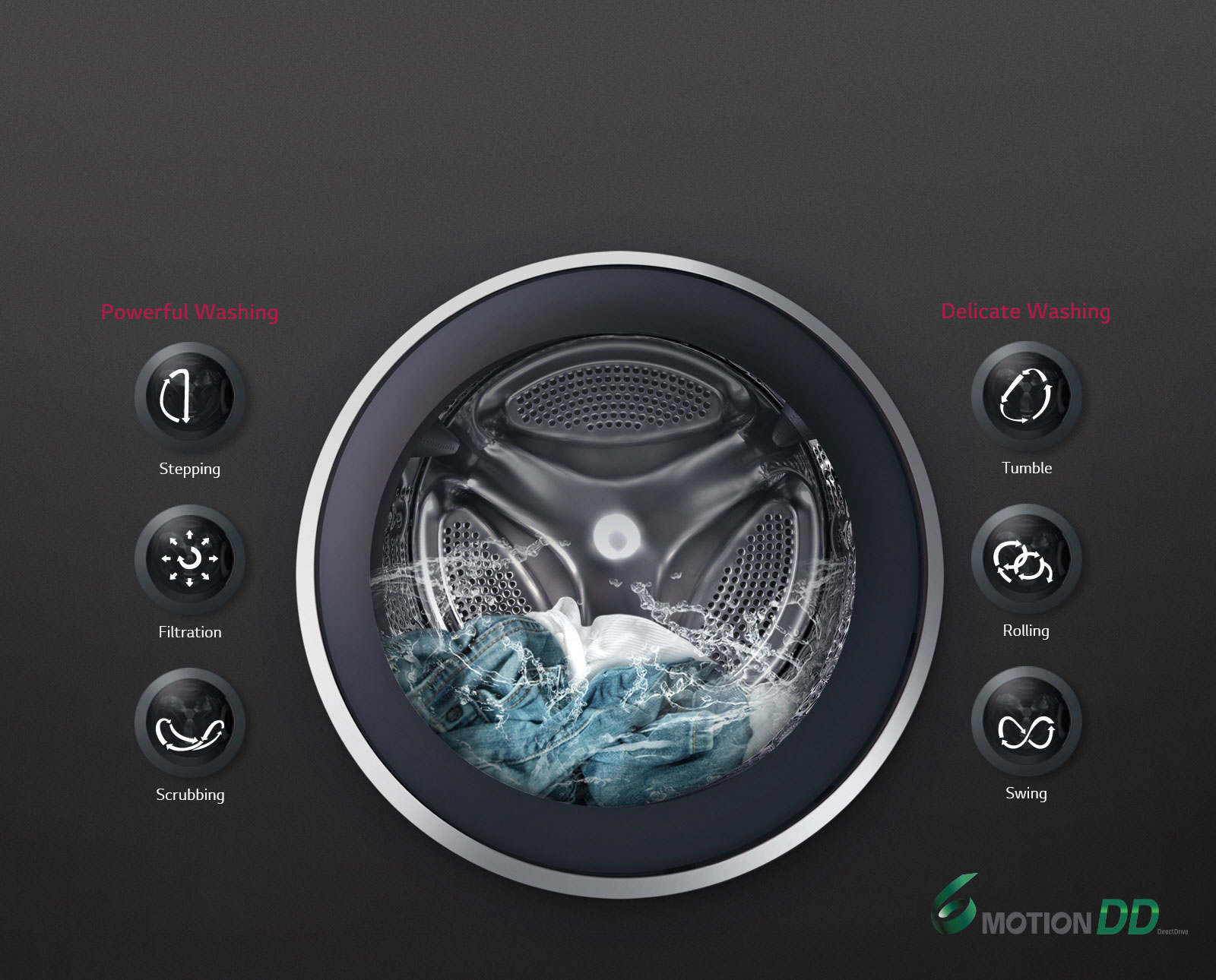 Pause & Add Items
If you miss to put laundry during washing, just press "Pause" and add any laundry from small socks to big jacket. Cotton, Mix, Easy Care, Speed14 whichever you selected, door can be opened* immediately(about 3 sec)** during washing.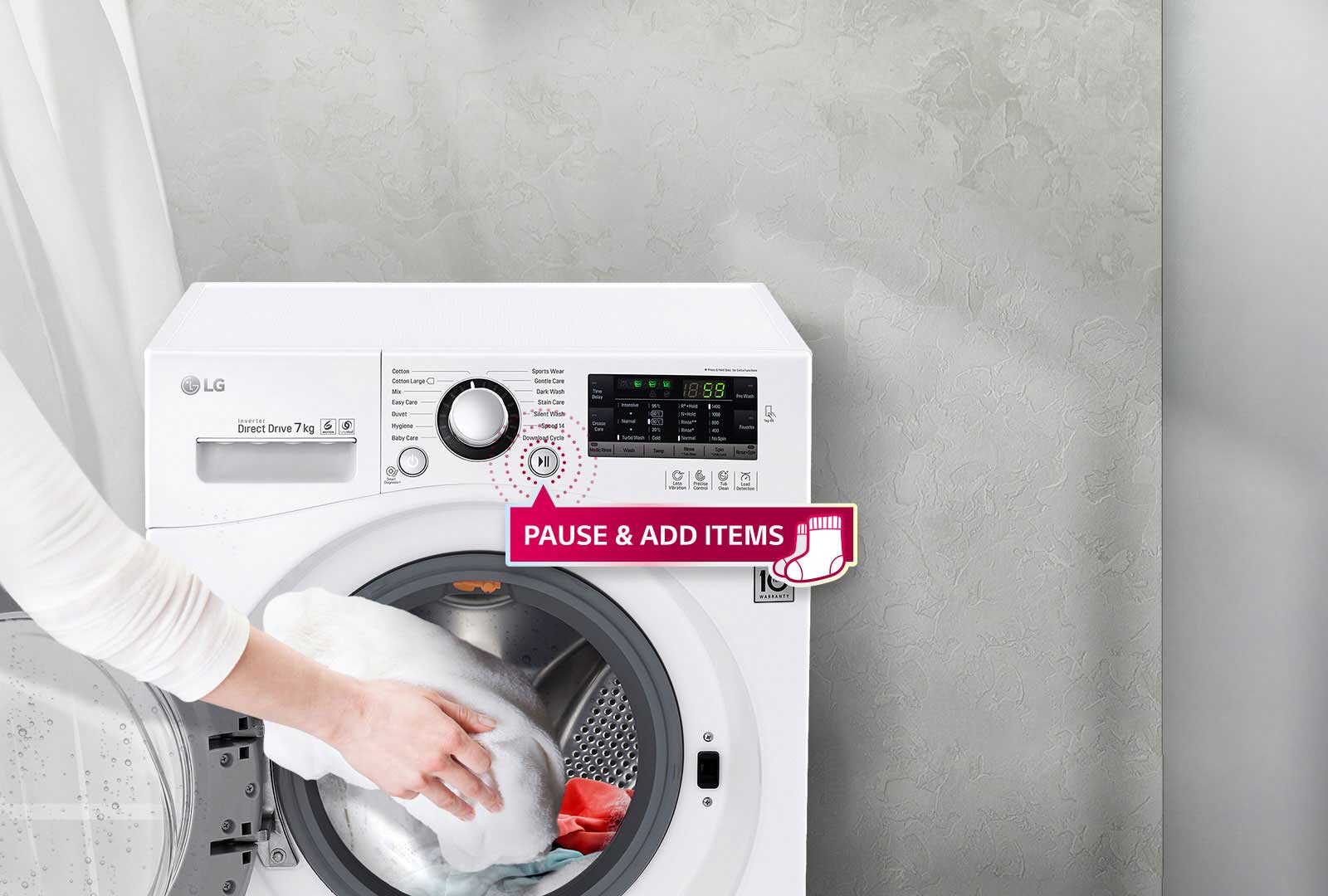 *The result is based on 20ea of towel (1ea = 100g) condition.
Depending on the clothes amount and fabric type, door lock may not be released. If water temperature is higher than 40ºC, door lock is not released for safety.
**Release duration time is less than 3 seconds.
Smart Diagnosis™
Smart Diagnosis™ helps diagnose and troubleshoot mechanical issues, limiting costly and inconvenient service visits.
Smart Convenience With NFC
Tag On lets users download new wash programs to a smartphone, such as Wool, Baby Care or Cold Wash. Tap the NFC Tag On symbol to install the program on the machine. Cycle Download stores up to 20 cycles and annually updates downloaded cycles. Smart Diagnosis™ quickly troubleshoots almost any minor issue before it becomes a bigger problem.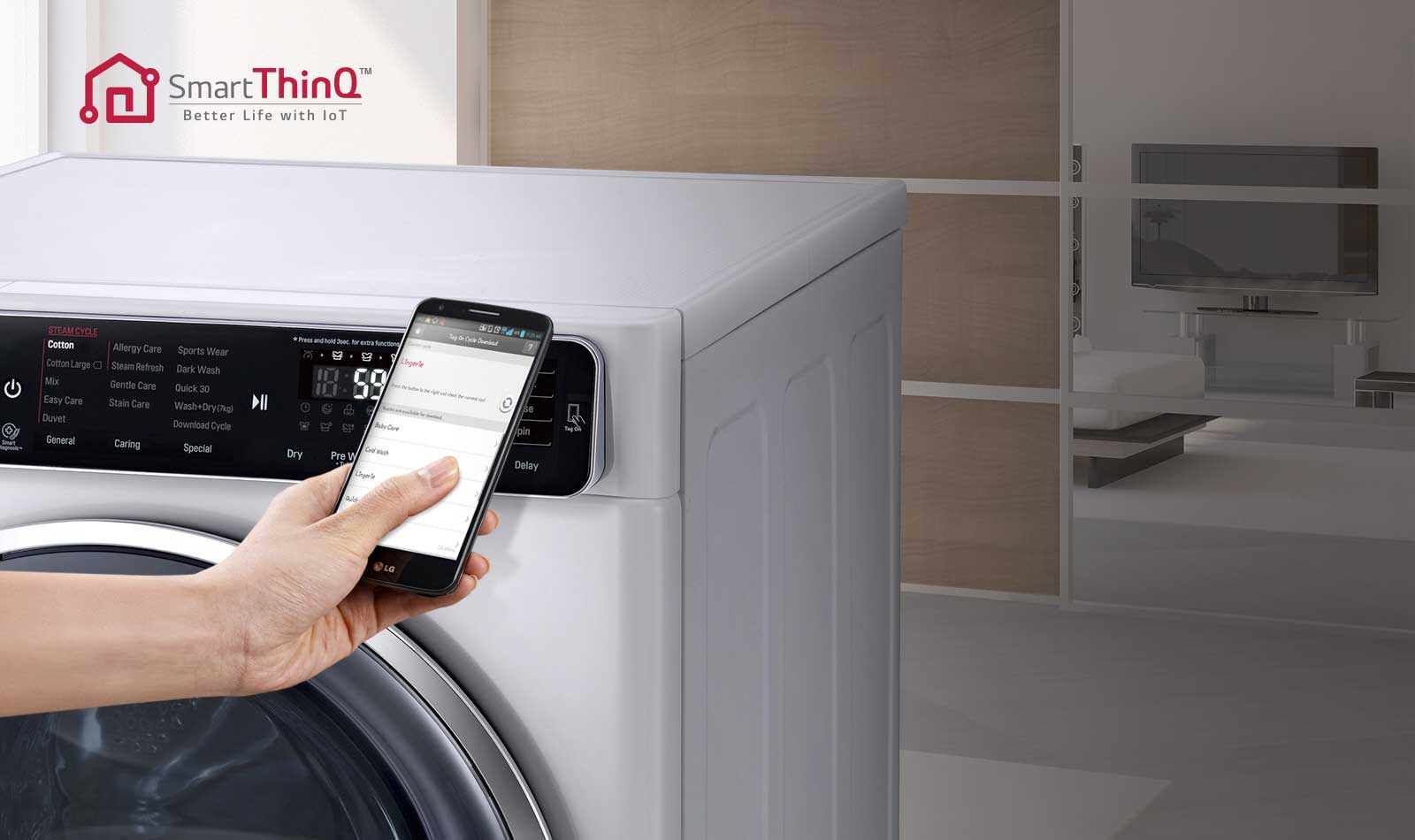 | | |
| --- | --- |
| Inverter Direct Drive™ | Yes (Post DD) |
| Steam™ (True/Spa) | Spa |
| 6 Motion | Yes |
| Add Item | Yes |
| Smart function – Smart Diagnosis | version 3.0 |
| Smart function – NFC (Download cycle, NFC) | Yes |
| Finish – Body Color | Blue White |
| Finish – Door | White rim (No Tint) (C5) |
| Finish – Display Background color | Black |
| Finish – Dial Knob | White |
| Basic – Max Wash Capacity(kg) | 7 |
| Basic – Spin speed | NoSpin/400/600/800/900/1000 |
| Basic – Variable Temperature(℃) | Cold/20/30/40/60/95℃ |
| Basic – Water feed (Hot/Cold) | Cold Only |
| Basic – Auto Restart | Yes |
| Basic – Standby Power zero | Yes |
| Basic – Door Switch type | Auto Door |
| Basic – Door Openning Angle (º) | 150 |
| Basic – Drum Hole Size (mm) | 300 (R) |
| Basic – Inner Drum | Embossing |
| Basic – Drum Lifter | Straight Lifter |
| Contol – Program selector | Dial + Touch |
| Contol – Diaplay Type | LED |
| Contol – Delay timer | 3-19 hrs |
| Contol – Door Lock Indication | Yes |
| Contol – Error Message Indication | Yes |
| Contol – Error Message Alarm | Yes |
| General – Cotton | Yes |
| General – Cotton + | Yes |
| General – Mix | Yes |
| General – Easy Care | Yes |
| General – Duvet | Yes |
| Caring – Allergy Care (TrueSteam or SpaSteam) | Yes |
| Caring – Gentle Care | Yes |
| Caring – Stain Care | Yes |
| Caring – Baby Steam Care (SpaSteam only) | Yes |
| Special – Sports Wear | Yes |
| Special – Dark Wash | Yes |
| Special – Silent Wash | Yes |
| Special – Download Cycle (Default Rinse+Spin) | Yes |
| Special – Quick 30 | Yes |
| Prewash | Yes |
| Crease Care | Yes |
| Time Delay (Delay End) | Yes |
| Child-Lock | Yes |
| Tub Clean | Yes |
| Wash Option – Intensive | Yes |
| Wash Option – Time Save | Yes |
| Rinse Option – Rinse+ | Yes |
| Dimension (W x H x D mm) | 600 x 450 x 850 |
| Weight (kg) | 62 |
| Water Inlet Pressure | 1.0 – 10 kgf/cm2 |
| Input Wattage | 1700W |
| Antirat Cover | Yes |